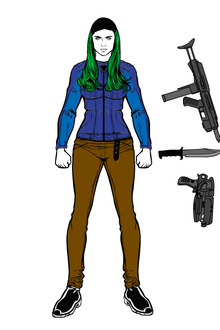 Xi Li was the daughter of famous underworld kingpin Mao Zhang Li who ruled in Chinatown with his gang the Jade Tigers. He was set upon stealing the famous "Lost treasures of General Wu Tangshan" which could give him the power to control the world.
However the famous hero Psychodelic (the original) defeated him and sent him to prison; where Mao was murdered. His daughter took up the mantle and began her own criminal empire; and now seeks the same treasures her father did and to exact her revenge on Psychodelic.
Knows shaolin martial arts, is very proficient with knives.
Ad blocker interference detected!
Wikia is a free-to-use site that makes money from advertising. We have a modified experience for viewers using ad blockers

Wikia is not accessible if you've made further modifications. Remove the custom ad blocker rule(s) and the page will load as expected.