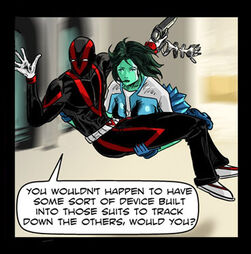 Virtus
is a Swedish hero created by
Sebastian Sandberg
(Speedslide).
Virtus is not a formal member of Heroes Alliance, prefering to remain solo but has found himself involved in their missions on their side. He also chooses not to wear the national colours like most of Sweden's heroes and is not a member of Sweden's Kronans Vakt-faction either.
Note: Virtus was a specific virtue in Ancient Rome. It carries connotations of valor, manliness, excellence, courage, character, and worth, perceived as masculine strengths.
Virtus is able to move at superhuman speeds. His rapid recovery time in Heroes Alliance #2 suggests that this extends to the rate at which he recovers from unconsciousness also.
Appearances
Edit
External Links
Edit
Ad blocker interference detected!
Wikia is a free-to-use site that makes money from advertising. We have a modified experience for viewers using ad blockers

Wikia is not accessible if you've made further modifications. Remove the custom ad blocker rule(s) and the page will load as expected.