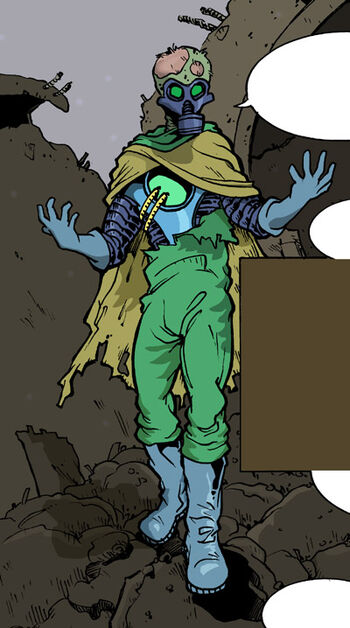 Thanatos is a Bombshell villain created and designed by Abt Nihil. He was an early member of R.I.S.E..
Thanatos (real name: Dimitris McClelland) used to be a weapons inspector with the United Nations. When discovering a secret weapons stash in Syria, he was exposed to toxic gas by security personnel in an attempted cover-up and presumed dead. However, the technology at the secret site allowed him to build a suit which continually regenerates his body, which is in a constant state of decay as an after-effect of the exposure to the gas. He then went on to destroy other weapons sites in Northern Syria, contaminating populated areas in the process. He was taken down by Bombshell and incarcerated in the US.
Thanatos was one of the first to be recruited for R.I.S.E., and also the first to defect. He returned to Syria to "reclaim his lands as king of the dead", but was captured by R.I.S.E.'s mission commander Cobalt (see HA #9).
Appearances
Edit
Ad blocker interference detected!
Wikia is a free-to-use site that makes money from advertising. We have a modified experience for viewers using ad blockers

Wikia is not accessible if you've made further modifications. Remove the custom ad blocker rule(s) and the page will load as expected.