Sea Embers (Henry Lindsay) is a villain character created by Ave Messer.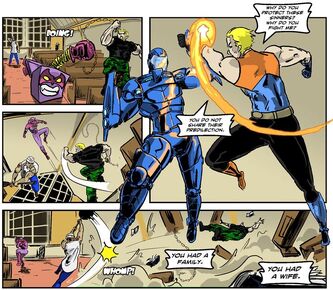 Sea Embers is a fundamentalist Christian who sees himself as a chosen one to wipe the evils of sin from the earth. He believes those with powers to be either angels of god or demons of Satan.
He is leader of the Seraphim.
Sea Embers and the Seraphim were amongst a horde of villains hired from multiple dimensions to crash a same-sex wedding taking place in the HUniverse. He was inadvertently defeated by an attack from Wireless intended for Shock.
Sea Embers has both pyrokinetic and hydrokinetic powers.
Appearances
Edit
Ad blocker interference detected!
Wikia is a free-to-use site that makes money from advertising. We have a modified experience for viewers using ad blockers

Wikia is not accessible if you've made further modifications. Remove the custom ad blocker rule(s) and the page will load as expected.