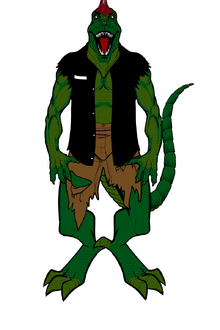 Jimmy "Punkasaurus" Wachowski was the drummer of the punk group known as "Powered Fist" and much like his friends he too was changed after their encounter with nuclear radiation. His body actually turned him into a dinosaur like beast and he fights with his friends and continues to pump up the crowds.
Super Dino strength, dexterous tail, snarky attitude.
Ad blocker interference detected!
Wikia is a free-to-use site that makes money from advertising. We have a modified experience for viewers using ad blockers

Wikia is not accessible if you've made further modifications. Remove the custom ad blocker rule(s) and the page will load as expected.