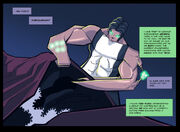 New Form
is a hero. He was a member of
Heroes Unite
and was one of the Heroes Unite heroes engaged in combat by Heroes Alliance during the events of
Energize: Hunted
 (in
Heroes Alliance #6
).
Discontinuity: New Form was a member of the "The Heroes Unite" team opposing Hell's attempt to conquer New Rossco City before that story arc was cancelled and relaunched as The New Guard.  New Form does not appear in that title.
New Form is a shapeshifter able to reshape his arms into weapons and other useful forms.
Appearances
Edit
Ad blocker interference detected!
Wikia is a free-to-use site that makes money from advertising. We have a modified experience for viewers using ad blockers

Wikia is not accessible if you've made further modifications. Remove the custom ad blocker rule(s) and the page will load as expected.