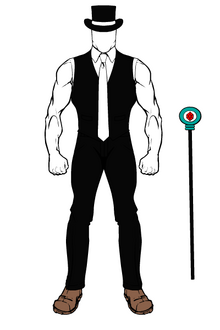 Mr. Face, the Vaudevillain, was once known as Harry Mackinaw, a man who came from a very long line of Vaudeville actors and stage illusionists, but his egotism drove him away from many employment in magic shows and theater, but he knew he could put himself ontop with a outstanding act involving fireworks, unfortunately, one stray firework grazed his face, leaving a burnt mark upon his face, he fell into madness and placed a blank mask upon his face to hide his shame, he now tries to become a criminal mastermind, using his illusion and magic to steal and rob.
Agile, Acrobatic. His cane contains illusion projectors and he even uses various smoke balls to make a quick get away.
Ad blocker interference detected!
Wikia is a free-to-use site that makes money from advertising. We have a modified experience for viewers using ad blockers

Wikia is not accessible if you've made further modifications. Remove the custom ad blocker rule(s) and the page will load as expected.