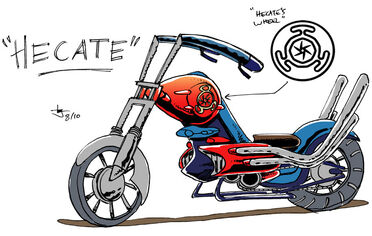 Hecate is the motorcycle owned by Peligroso.
It can be summoned to Peligroso by him uttering its name, it is super fast and durable (sometimes it can be used in battle with Peligroso), and it can activate demon gates that allow for almost instant transport from one place to another (helps to cross countries or even oceans).
Hecate's True form.
Origin: Hecate was originally a Gremlin who was in the servitude of an abusive vampire and his gang of adrenaline junkies. When Peligroso challenged him to drag race and won; he was given Hecate as a prize. She feels much happier being under Peligroso's command. She loves technology and can possess most tools (including guns) to either boost their power; or actually weaken them.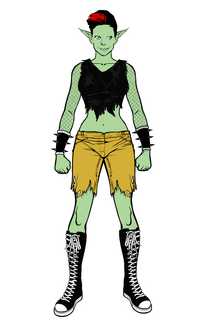 She can be sometimes become so entranced by some technology; that she can forget anything else.
Ad blocker interference detected!
Wikia is a free-to-use site that makes money from advertising. We have a modified experience for viewers using ad blockers

Wikia is not accessible if you've made further modifications. Remove the custom ad blocker rule(s) and the page will load as expected.