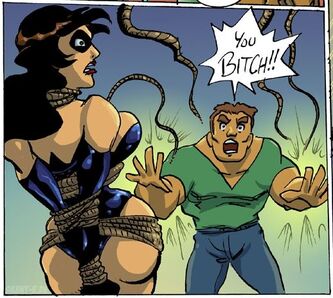 Bind (Brian Velle) is a villain character created by Ave Messer.
He is a member of the intolerant fundamentalist Christian team called Seraphim.
Bind will throw his weight around in a fight, but never asserts himself to other members of his team. He is an inseparable from his sister, Lash. Their bond may be too close for siblings to have.
Bind and Seraphim were amongst a horde of villains hired from multiple dimensions to crash a same-sex wedding taking place in the HUniverse. He was defeated by Bombshell.
Lash can create mystical ropes out of the air with which he can bind people instantaneously. He is a strong man, but not superhumanly so.
Appearances
Edit
Ad blocker interference detected!
Wikia is a free-to-use site that makes money from advertising. We have a modified experience for viewers using ad blockers

Wikia is not accessible if you've made further modifications. Remove the custom ad blocker rule(s) and the page will load as expected.